One-off PDF-magazine
This type of magazine or brochure is intended voor pblications that are already designed and available PDF-file, such as one-off folders or brochures, but also editions of print magzines or papers. Create an online archive of your publications to view at any time, without physical storage problems.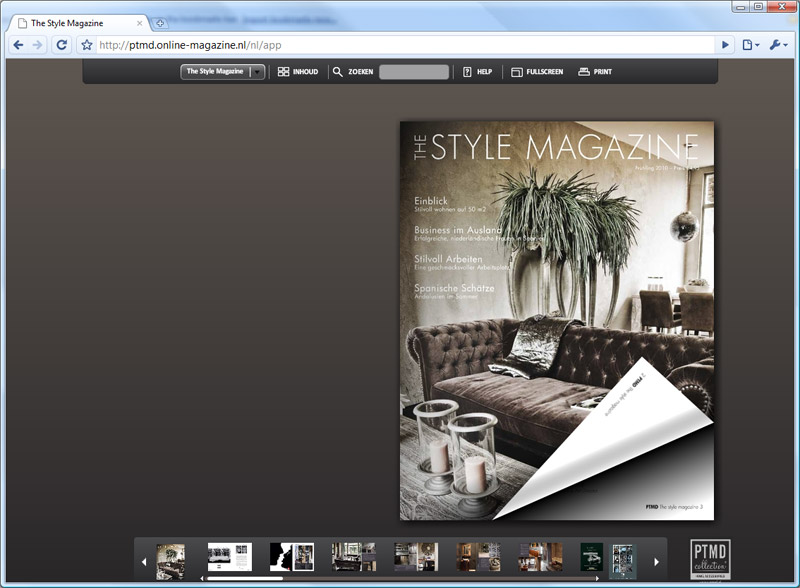 With this solution your PDF is loaded into the system and converted into a browsable magazine. The magazine is equipped with an interface in which the reader can browse through the magazine, zoom in or out and rapidly navigate to any page from the table of contents. BlueBerry will create these links based on your specific wishes.
This PDF-module is expandable by adding a management system that enables you to create these links yourself. In this way, you can also create links out of images or texts, for increased usability. Said management system is advised when multiple publications are converted in this way annually.
Interface
Upon conversion the magazine is fitted in a standard interface. BlueBerry can adjust this interface to match the corporate identity and style of your organization, as well as adding your logo. If desired, a completely custom designed interface can be created too!
Possibilities
The following options are avaible to increase your visitor's reading ease:
Turning pages via buttons or via mouse , to turn the page as one would to with a physical newspaper, brochure or magazine

Navigate to any page swiftly from the page overview

Find content on any page easily thanks to the integrated search function

Zoom in for blown up high-res views, and zoom out again to regain overview

Smart table of contents for navigating to a certain page quickly

Easy switching from one publication to the next

Vanuit de inhoud van het magazine doorklikken via een interne link naar een andere pagina

Search engine optimalization
A finished online magazine is displayed in Flash. Unfortunately, Flash is known for having a low search engine-efficiency-rate. To ensure proper indexing of the magazine's content, a HTML-copy is automatically generated upon publishing, from which the search engines will grab their indexing data, such as pictures and text. When a user clicks on after search engine-results, there will be an automatic redirection to the Flash-version of the magazine.
The magazine's domain
The magazine's domain is approachable via internet. Options are to utilize a subdomain (such as "yourname.online-magazine.nl") or a coupled domain that has already been registered.
Versions
Two variants of PDF-magazine are available:
Standard PDF-magazine
Magazine is converted to a browsable magazine

Magazine is placed on neutral domain (such as "yourname.online-magazine.nl")

Magazine is furnished with stylish black/ grey interface

Magazine will remain online for one year, after which annual hosting costs will be charged
Extensive PDF-magazine
BlueBerry adds extra internal and external links to the magazine's pages

Interface design is completely customized to your desire

HTML-background for search engines

Comprehensive statistics system

Option to connect domains of choice

Mogelijkheid om eigen domein aan het magazine te koppelen

No BlueBerry-references in sight

Log-in security optional

Example
Click here to view an example of a PDF-magazine