About the online Magazine Editor
The online Magazine Editor is a separate module that is used solely by the magazine's administrator. Within this module one can design and allocate the different spreads. The Magazine Editor is shielded by a login procedure and is placed on a specific location, online. Also provided is an interface that presents the produced spreads form the Editor to every individual viewer.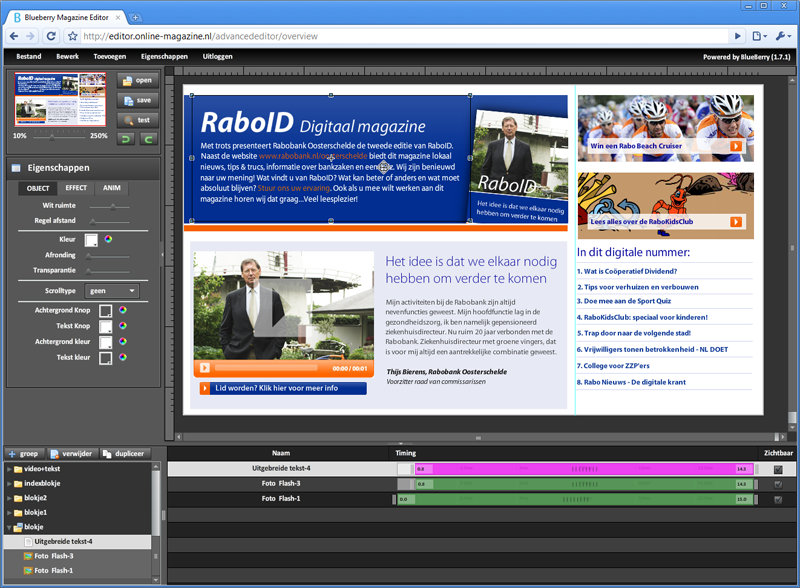 With the Magazine Editor you are able to create separate editions in which the spreads can be designed and produced completely according to your needs and desires. Thanks to the way the Editor is created, users can implement enrichment and interaction through accepted design tools. Simply log on to the Magazine Editor via online environment and start creating your magazine!
The Magazine Editor has been deliberately set up to be easily understood, and to be intuitive to use. The Magazine Editor's base contains a library where all photography and video material can be stored. From the menu, new objects can be added to a spread, al object have there own panel in whiched all their settings are displayed. The objects dragged onto a spread are positioned in a separate layer. By shifting these layers, the sequence of events on the spread is determined. After designing and producing a spread it can be saved and edited at any time.
In het kort :
Onlie application for creation and publication of online magazines
Start from a blank screen or use a PDF-document as the base of your spread
Publish your results to web and iPad yourself, by the press of a single button
Easy to use, no prior knowledge of Adobe Flash is needed
Software is accommodated with standard effects, animations and integration tools for images, video and audio files
Check out a sample video on working with the Magazine Editor