Interactive magazine
The power of the interactive magazine in combination with the online Magazine Editor is in the ease and liberty of developing a magazine or presentation. Users can easily upload photo- or video material, position it in the magazine and accommodate with animations and / or effect.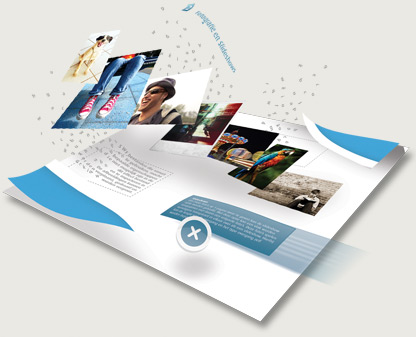 The process
Designing can be initiated in a widely known tool like Adobe Photoshop, or a variant. From here, separate the elements you want to be separated in the online magazine, and upload into the Magazine Editor. Now re-assemble the original layout and add timing, animations and effects. With these options, a "flat" page transforms into an interactive page!
After setting up the page's base as said, it's possible to add more elements like layers, buttons, videos and audio-fragments. Pages of lesser complexity that do not demand interaction can be imported from a PDF-document directly. After importing, this document functions as a single base layer which can be enriched with various extra elements. The choice of procedure in this start-up phase is based on the desired complexity of the page.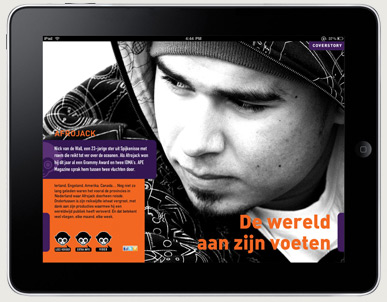 After finishing building all pages as above and the pages have been tested for operating correctly, the magazine is ready to be published. This is where a decision needs to be made; is this a publicly visible magazine or does it need to be shielded with a login-procedure?
Upon publication the magazine appears as a new issue ( the cover is displayed in the main interface) on website or iPad. The magazine itself can be edited at any time, edited pages will be updated automatically. The behaviour of your readers can be checked afterwards thanks to an extensive statistics-system.
In the online environment, another option is adding a payment-system. In this case, visitors need to subscribe before entering the magazine, for a single issue, or a subscription for a longer period of time. A similar system works for iPad, but through Apple's payment system.
Interaction within the magazine
With our magazine, information can not only be displayed, a visitor can also leave his or her input. Magazines can be altered with extra components such as reaction and survey forms. Your visitors can directly react to articles in the magazine and share pages or elements via social media. If more information about the reader is desired, create a survey and implement it in your magazine. It's results can be extracted from the management system immediately.
Working with the Magazine Editor
To work with the Magazine Editor, some experience in desktop publishing and correspondent software could come in handy. Many elements have been adapted in line with well-known and widespread software, so users will quickly become acquainted with the system.
The Magazine Editor comes equipped with a complete manual and extensive tutorial-videos. Another option is following a workshop from one of the Magazine Editor's developers, to master every facet the system has to offer. Not only the functions of the Editor itself are addressed, but also the guidelines for developing and publishing digital content.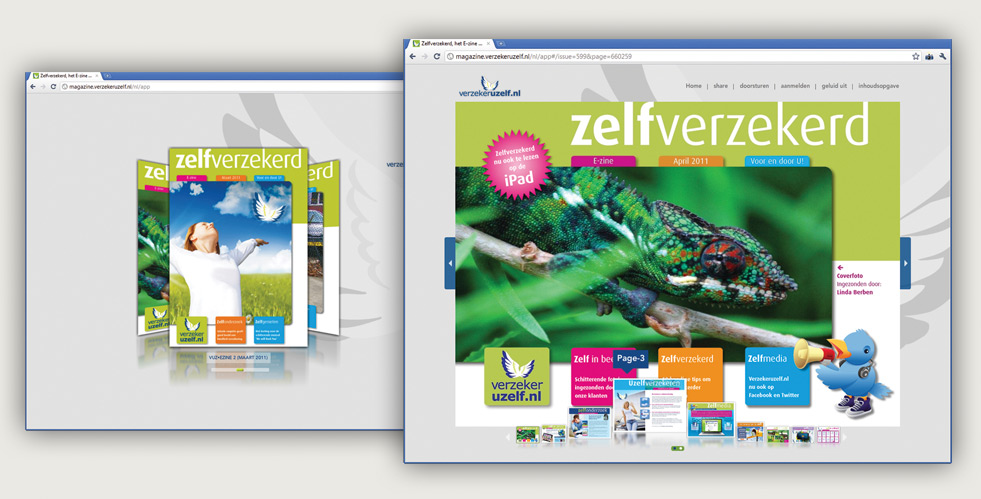 Extensive possibilities
The Magazine Editor is created for use by a wide audience. Creating a digital magazine is easy with the Magazine Editor. However, the Editor can also be used to create high-end presentations. Think of this a expanded form of MS PowerPoint or Apple Keynote, with many added functions. With the addition of a system of user-rights, multiple associates of an organisation can log on. The more complicated functions can be switched off for designated users. These users can still make use of various pre-developed presentations, or templates, and can still personalize certain parts of the presentation, as designated.
From this point on, these presentations can be published to all the same media as the magazine; iPad, website or AIR-application for offline use.
Hosting, domain and back-ups
The entire software package runs on Blueberry-owned servers. This also applies to all content assimilated in the magazine. BlueBerry is capable of connecting external domains to the magazine-environment. Users/ readers will not be aware of being transferred to an alternative domain when viewing a magazine. The size of the hosting-package depends on the needed/ used amount of data-traffic. For this, BlueBerry wield several different ladders. Otherwise, there is always the option to download the content of your magazine directly to your hard drive, by utilizing the offline AIR-viewer.
Main options and possibilities
Complete online editing system, requiring only installation of the Flash-plugin to your system.
No prior knowledge necessary to use the Magazine Editor, some affinity with publishing may be helpful.
The possibility to design and publish multilingual magazines or presentations.
Interface completely customizable to meet your wishes.
Option to start from blank worksheet or PDF-document.
Option to start from pre-produced templates.
Extensive rights-system for use by multiple individuals.
Use of groups and layers to add depth to a page.
Secure the entire environment or single issues with a password-entry.
Download magazines offline with the AIR-application.
Print the magazine as PDF-file.
Magazines use state of the art search engine technology.